The Man in the Gray Flannel Suit
Sloan Wilson
1955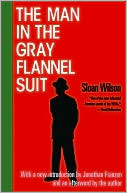 Though it's cited in nearly every book and article about the culture of the 1950s, few readers under 65 know Sloan Wilson's The Man in the Gray Flannel Suit firsthand. The story of disappointed Westport, Conn., strivers Tom and Betsy Rath anticipates the novels of suburban anomie by Franzen and his contemporaries. Dreaming of a bigger house for his wife and three kids, WWII veteran Tom leaves his job with an arts foundation to be a well-paid public relations executive at the United Broadcasting Corporation. But corporate ladder climbing and consumer rewards leave him miserable. Though his sentimental conclusion now seems dated, Wilson's portrait of the martini-soaked malcontents is sharp, memorable and still resonant today.
Search for this book in GIL or the GIL Universal Catalog.
Book review written by Jimmy Brown in Music Cataloging.