Author: Leonie Swann (translated by Anthea Bell)
Three bags full : a sheep detective story
New York : Doubleday/Flying Dolphin Press, 2006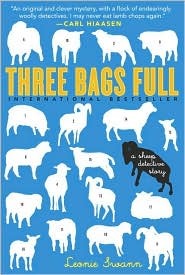 This detective novel has an unusual premise – a flock of sheep attempt to solve the murder of their shepherd, George. The lead detective is Miss Maple. She is the smartest sheep in Glenkill; although, the sheep that holds the title is one that can drink a bottle of Guinness on cue.
To find out how George died Miss Maple and the flock must spy on humans and learn the secrets of his life. The sheep don't always correctly interpret human conversations. This leads to some misunderstandings, sometimes humorous and sometimes disturbing, about religion, drugs and food. The sheep are better at understanding the truth of human feelings. They see what humans say with their eyes, their bodies and their tone.
In a typical mystery, the solution to the crime is the most important thing. In this book, what will happen to a flock of sheep is as important.
This is an entertaining book, but one that touches upon serious conflicts between the role of an individual and his place in society, and the disadvantage humans face of constantly being unsure of one another's motivations. A reader may find himself with some serious questions to think about long after the last page is turned.
This books is available at UGA and at other University System of Georgia Libraries.